To see real logos, see the Jetix article on Logopedia.
2012 (Prelaunch)
Edit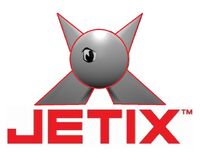 Around 2012 SLN! attempted to revive Jetix.
2013-present
Edit
On January 7, 2013 , A Holdings helped SLN! for the revival of the channel. The idents were made by Rubber Pixel. In celebration, Jetix announced Jetix and Wetix, which was stuck in development for 3 years before airing.
As of 2016, after Crystal Entertainment was established by merging A Holdings and other companies, Crystal and Laserium Television Group launched a partnership, which means that Crystal Entertainment will maintain the license and the U.S. version of the channel, while Laserium Television Group operate and own the international versions of Jetix that it will launch through Ya Media, Switchover Media and other companies. In November 2016 though, the Jetix brand and assets were bought by Nostalgic TV Partners LLC, MalaWorks Company Inc. and Village Lava International Group. SLN! Media Group and Village Lava soon joined Nostalgic TV Partners.
Also in November 2016, Fetix and Jetix announced a partnership deal where they would air each other's original programming in their channels.
Due to a sudden increase of programming, all international versions of the Jetix channel became 24/7 channels and Nostalgic TV Partners LLC announced to create JeDeux in March 2017. However, the date was delayed to January 2018.
A Holdings merged into Village Lava, while Village Lava acquired Hyper's stake in Nostalgic TV Partners in February 2017. That month, GBC Holdings and Laserium Holdings transferred their total 40% stake of the business to their joint venture Laserium-GBC Networks. Laserium-GBC Networks soon bought out Village Lava's 40% stake in Nostalgic TV Partners and MalaWorks Europe's 20% stake in the Jetix channels, Later in April 2017, Jay Broadcasting Entertainment announced a streaming service silmar to TurboNick called Jetix Jetstream and became one of the two operating partners of the American channel.
In May 2017, JBE was acquired by Lorimar and became one of the operating partners of the American channel.
Programming
Edit
Main article: Jetix (revived)/Programming
JRG
John River Entertainment:
Subscription television company | Alive Films (Revival of the art house film production company) | A manufactured-on-demand (MOD) DVD series | Hiscanal Producciones Originales | Teleamazonas Internacional (78%) | International theatrical and home entertainment rights to Laserium-GBC Networks Europe's pre-2005 library in Argentina | A sports film division | Kapow Pictures | Nelvana's international offices in Tokyo
Programming: Flashspot | RevoMusic | A FashionTV block in Fashionista (a joint venture with Suius M&E Networks and Michel Adam Lisowski)
---
JR Digital:
Xfire | Teletext service | A workout and nutrition-focused fitness mobile app | A dating service | hiscanal.com | Bull's Eye Inc and Minori | A revival of iFilm.com
---
Television channels:
Ozone | Hiscanal | Drama-focused programming block | A channel targeted for people in the 50+ age group | A weather channel | The revivals of Pivot and Versus | NDTV Good Times
---
Radio channels:
A radio station targeting women aged 30+
---
Others:
A Greek food restaurant chain | A juice bar chain | Warner-Chilcott's production and research facilities in Puerto Rico | A shopping cart and shelving manufacturer | A possible revival of 20/20 Vision (UK) | A revival of Prana Film | A joint venture with Lebanese Broadcasting Corporation | Tom Forman Productions | A paging systems company | 20% of Simba Content | A joint venture with S-inc, Itochu Corporation and Space Shower Networks
View • Talk • [[Template:John River Group?action=edit|Edit]}}
Polar Night Inc
Crystal Entertainment:


Crystal Pictures | Live Entertainment (Live Interactive (Adrenium Monsoon/Black Ship) | Live Asia | Others) | at studio | Oebo Pictures (Others) | Leopard Films | Eagle Fire Entertainment | Sirocco Dreams | FinleyLand Pictures (Others) | Kislevi03one Pictures | Mirage World Films | Sunrise Road Productions | Aye Carumba! Productions | Topitoomay Television | John River Television | Ballandi Multimedia | Elk Format | Sanoma Media Netherlands/Belgium | I Can Has Cheezburger? | Cenozoic Productions | Nextreme Max Productions | Roblox Productions | A Studios | Mediaset UK Television9
---
Crystal Television:
Canada | UK | UK West | Mexico
---
---
Eagle Fire Entertainment:
Live Entertainment (soundtracks) | El Kadsreian Melody (52%) | Crystal Records3 | Bird Records 5
---
Television:
Jetix (International) | Cannon Network (On-screen logos) | Toonzak | Vision | Gamatico2 | Discovery Kids | Nickelodeon Games and Sports for Kids | CN Real | NickClassics | McDonald's Network | SRC Network | Style | American Ninja Warrior Network | BBC Choice | H2 USA | SOAPnet | GoTV | Auction HD | Auction2 | WEO | LGBT | Screams | Nostalgic (Nostalgique) | Jetix UK | SpaceToon USA 6 | Jetix Netherlands | Cloo8 | G4 8 | Dopamine | Dopamine2 | Xine | Glass Clock Sports | ROBLOX 1 | Vivo | Channel 6 | Lumix Sports | +1 | 10MTV 2 | 10MTV 310,11 | Kids+ | Lucky Kids11 | Minimax USA11 | 10MTV | Atv 1
Mediaset UK9: Canal 5 (Sport | Turbo | Kids) | Ginx TV | Nextreme Spice7 | Pink | Pink Movies | Cube
Television stations: KQKE | WJRT | KPLR | KXTX-TV | WMAX | CHINQ-TV | KSFC-TV | WTRN | KETZ-TV | XLIV-TV | XTVM-TV | XTRN-TV | XNPL-TV | XPRM and XFRZ (owned by MIS Partnership)
Bought from Nextreme Entertainment: Cannon Sports | Cannon Jr | Nextreme Max | The MMG2 Channel | Mr. Man Guy Network
---
Other assets:
Windmill plc | Computer Corporation Group | Village Lava Theme Parks | John River Media Center for Studies, Graphics & Media Training, Research, Analysis and Development | Havek | Nitro Ships | Healey Motors | CHM Services | Irish Health Company | Roblox Consumer Products | Roadshow Interactive12 | Nitrome | Palm Hotels | Guild Cinemas | Gaumont Bachmann Cinéma & théâtres 4 | Village Books | Roadshow Comics | Riverstop Hotels | Echo Books | Talkwave FM | Roadshow FM | Benri | Radio Alex | Cannon Radio Italo | Nextreme Radio Spain | PLR International LP | MIS Partnership 13
---
Stakes: Nostalgic TV Partners (80%) | Atresmedia (34.97%)
---
Former:
Fuse Networks Australia (LifeStyle, 111 and Comedy sold back to Foxtel Networks) | Trace Partners | Atresmedia Cine & Digital | Visioner Entertainment | Visioner Interactive | Pop Corn Productions | Leopard Movie Network | Leopard Holdings | Crystal Franks | AMG Television | AGH | The BBB Group | BBB Entertainment | A Entertainment | ToonScratch Pictures | Zbox | Hollywood Video | Thorn Group | Warner-Rovio Films | G4 Movies/Weed TV

---
2 A joint venture with Viacom and Turner Broadcasting System.
3 A joint venture with Thorn Emi Studios.
4 A joint venture with Gaumont.
5 Formerly owned by MalaWorks and Thorn Emi Media Group.
6 A joint venture with Spacetoon Media. Owns 25% of the channel.
7 A joint ventue with Nextreme Entertainment.
8 A joint venture with Lava Lamp Entertainment.
9 A joint venture with Mediaset.
10 Owned with the estate and families of Jack and Dean Taylor, Hyper Holdings, Saban Brands, Disney-ABC Television Group and private investors.
11 Owned with AMC Networks.
12A joint venture with Village Roadshow Limited.
13 A joint venture with Disney Media Distribution, PBS members, CBS Corporation, NBCUniversal, Turner Broadcasting System and Fox Entertainment Group.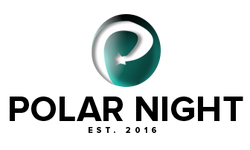 View • Talk • [[Template:Polar Night Inc.?action=edit|Edit]}}
Ad blocker interference detected!
Wikia is a free-to-use site that makes money from advertising. We have a modified experience for viewers using ad blockers

Wikia is not accessible if you've made further modifications. Remove the custom ad blocker rule(s) and the page will load as expected.