To see real logos, see the Jetix article on Logopedia.
2012 (pre-launch)
Edit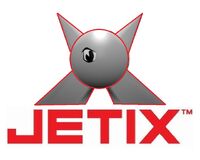 Around 2012 SLN! attempted to revive Jetix.
2013-present
Edit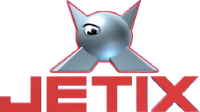 On January 7, 2013 , A Holdings helped SLN! for the revival of the channel. The idents were made by Rubber Pixel. In celebration, Jetix announced Jetix and Wetix, which was stuck in development for 3 years before airing.
As of 2016, after Crystal Entertainment was established by merging A Holdings and other companies, Crystal and Laserium Television Group launched a partnership, which means that Crystal Entertainment will maintain the license and the U.S. version of the channel, while Laserium Television Group operate and own the international versions of Jetix that it will launch through Ya Media, Switchover Media and other companies. In November 2016 though, the Jetix brand and assets were bought by Nostalgic TV Partners LLC, MalaWorks Company Inc. and Village Lava International Group. SLN! Media Group and Village Lava soon joined Nostalgic TV Partners.
Also in November 2016, Fetix and Jetix announced a partnership deal where they would air each other's original programming in their channels.
Due to a sudden increase of programming, all international versions of the Jetix channel became 24/7 channels and Nostalgic TV Partners LLC announced to create JeDeux in March 2017. However, the date was delayed to January 2018.
A Holdings merged into Village Lava, while Village Lava acquired Hyper's stake in Nostalgic TV Partners in February 2017. That month, GBC Holdings and Laserium Holdings transferred their total 40% stake of the business to their joint venture Laserium-GBC Networks. Laserium-GBC Networks soon bought out Village Lava's 40% stake in Nostalgic TV Partners and MalaWorks Europe's 20% stake in the Jetix channels, Later in April 2017, Jay Broadcasting Entertainment announced a streaming service silmar to TurboNick called Jetix Jetstream and became one of the two operating partners of the American channel.
In May 2017, JBE was acquired by Lorimar and became one of the operating partners of the American channel.
Programming
Edit
Main article: Jetix (revived)/Programming
Ad blocker interference detected!
Wikia is a free-to-use site that makes money from advertising. We have a modified experience for viewers using ad blockers

Wikia is not accessible if you've made further modifications. Remove the custom ad blocker rule(s) and the page will load as expected.