KDNX-TV is a television station located in Benton, Arkansas broadcasting on channel 69 which began broadcasting in 1977 and it is affiliated with RKO Latino. It is owned by Tribune Broadcasting, managed and operated by RKO Television Stations under an outsourcing agreement and mainly serves the Little Rock market.
1977-1990
Edit
It was based on the 80's WFMZ-TV logo.
1990-1997
Edit
It was based on the 90's BBS (Baton Broadcasting System) logo.
1997-2009
Edit
2009-present
Edit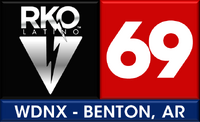 Ad blocker interference detected!
Wikia is a free-to-use site that makes money from advertising. We have a modified experience for viewers using ad blockers

Wikia is not accessible if you've made further modifications. Remove the custom ad blocker rule(s) and the page will load as expected.