1968-1973
Edit
In 1968, Rediffusion stopped broadcasting in the UK and moved its operations to the USA. Rediffusion London is owned by RKO and ITV. Its headquarters are located in New York City, New York.
1973-1978
Edit
1978-1985
Edit
1985-1992
Edit
1992-1998
Edit
1998-2003
Edit
2003-2008
Edit
2008-2012
Edit
2012-present
Edit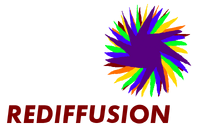 Ad blocker interference detected!
Wikia is a free-to-use site that makes money from advertising. We have a modified experience for viewers using ad blockers

Wikia is not accessible if you've made further modifications. Remove the custom ad blocker rule(s) and the page will load as expected.