TV Viisi (also called TV5) was originally launched in March 2004, but was quickly replaced on November 2004.
2008-2010
Edit
TV Viisi was relaunched on September 2008 and began operating.
2010-2014
Edit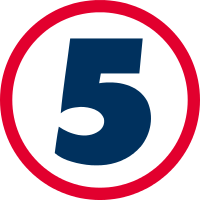 TV Viisi's visual identity was overhauled on October 1, 2010, and the channel now uses the same logo and idents of its Swedish counterpart Kanal 5.
In 2011, TV5 was split from Kutonen as a separate channel.
2014-present
Edit
In 2014, RKO Holdings purchased TV Visii and Kutonen.
Ad blocker interference detected!
Wikia is a free-to-use site that makes money from advertising. We have a modified experience for viewers using ad blockers

Wikia is not accessible if you've made further modifications. Remove the custom ad blocker rule(s) and the page will load as expected.