The Children's Channel
2015-2016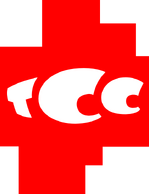 This logo resembles the G4tv logo in 2007 The Children's Channel was revived again this time by
SLN! media group
and launched on November 1, 2015.
2016-present
In November 1, 2016, TCC went back to it's 1995 Logo.
In November 2016, the Scandinavian, Irish and Benelux versions of TCC became their respective versions of Jetix, which is SLN! Media Group's other children's channel. However, the British version still remains as TCC.