1950-1956
Edit
This first indie station owned by Rose & Company.
1956-1968
Edit
1968-1978
Edit
In 1971, CBS moved from KEFL-TV to WGB-TV.
1978-1986
Edit
In 1981, Golden West Broadcasting acquired WGB-TV from Rose & Company.
1986-1992
Edit
1992-1995
Edit
It was owned by Tribune Company, Paramount Stations Group and Fox Television Stations Group.
1995-1999
Edit
Was called "CBS 2 Benton WGB-TV" in the station.
In this station, the name 'WGB CBS 2 Benton" in this station until 2004. Starring in 2004, the name "WGB-DT CBS 2 Benton" in this station.
2000-2008
Edit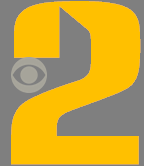 Alternate logo for WGB, used on local news and promos.
Ad blocker interference detected!
Wikia is a free-to-use site that makes money from advertising. We have a modified experience for viewers using ad blockers

Wikia is not accessible if you've made further modifications. Remove the custom ad blocker rule(s) and the page will load as expected.