WRKF-TV, channel 3, is an owned-and-operated television station of the RKO Holdings-owned RKO Network, located in Fresno, California, USA. Its signal covers the Central San Joaquin Valley and the mountain ranges flanking either side, including the Sierra Nevada mountains and Yosemite National Park. The station serves Fresno, Madera, Merced, Mariposa, Tulare, and Kings counties.
1934-1955
Edit
1955-1959
Edit
1959-1975
Edit
1975-1981
Edit
1981-1991
Edit
1991-1997
Edit
1997-2009
Edit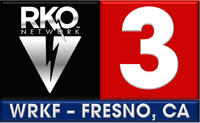 Ad blocker interference detected!
Wikia is a free-to-use site that makes money from advertising. We have a modified experience for viewers using ad blockers

Wikia is not accessible if you've made further modifications. Remove the custom ad blocker rule(s) and the page will load as expected.